Table of Content:
1. Practical experience matters
2. Understanding of basic education
5. Knowledge about user interface designing
eLearning is slowly evolving to be the bedrock of learning and development in many organizations across the globe. This industry is expected to grow exponentially in the next few years. Many businesses are moving towards eLearning and embracing the flexibility that it offers better during the pandemic to continue and maintain highly competent workforce. The industry is expanding rapidly and growing every minute. There are new technologies developed and deployed every day. What was completely unattainable a decade ago is now the most basic elements of eLearning. With such rapid development and increasingly high innovations hitting the industry every day, keeping up with this pace can be difficult for businesses.
Businesses investing in eLearning expect the investment to pay quickly. Businesses are adapting to eLearning to enhance their digital presence. They are taking this step to ensure that they receive the benefits at the quickly and easily. It is almost impossible for businesses to expect quick returns without leveraging the best talents in the industry along with the latest technology and advancements available out there.
However, not everyone is well versed or experienced in hiring the best and making the most of the investment. Hiring is important part of every business. Businesses adapting eLearning have only two options. They should either hire and build their own eLearning development teams who understand the roles and responsibilities better or find a business who can undertake contracts to complete the job for them. Either way, it is critical that organizations know what they should look for when they have an eLearning project in hand.
As overwhelming as this may sound, the process becomes much easier when you understand what to look for in eLearning developers. We have composed a list of traits that you must look for while hiring an eLearning developer for your eLearning projects.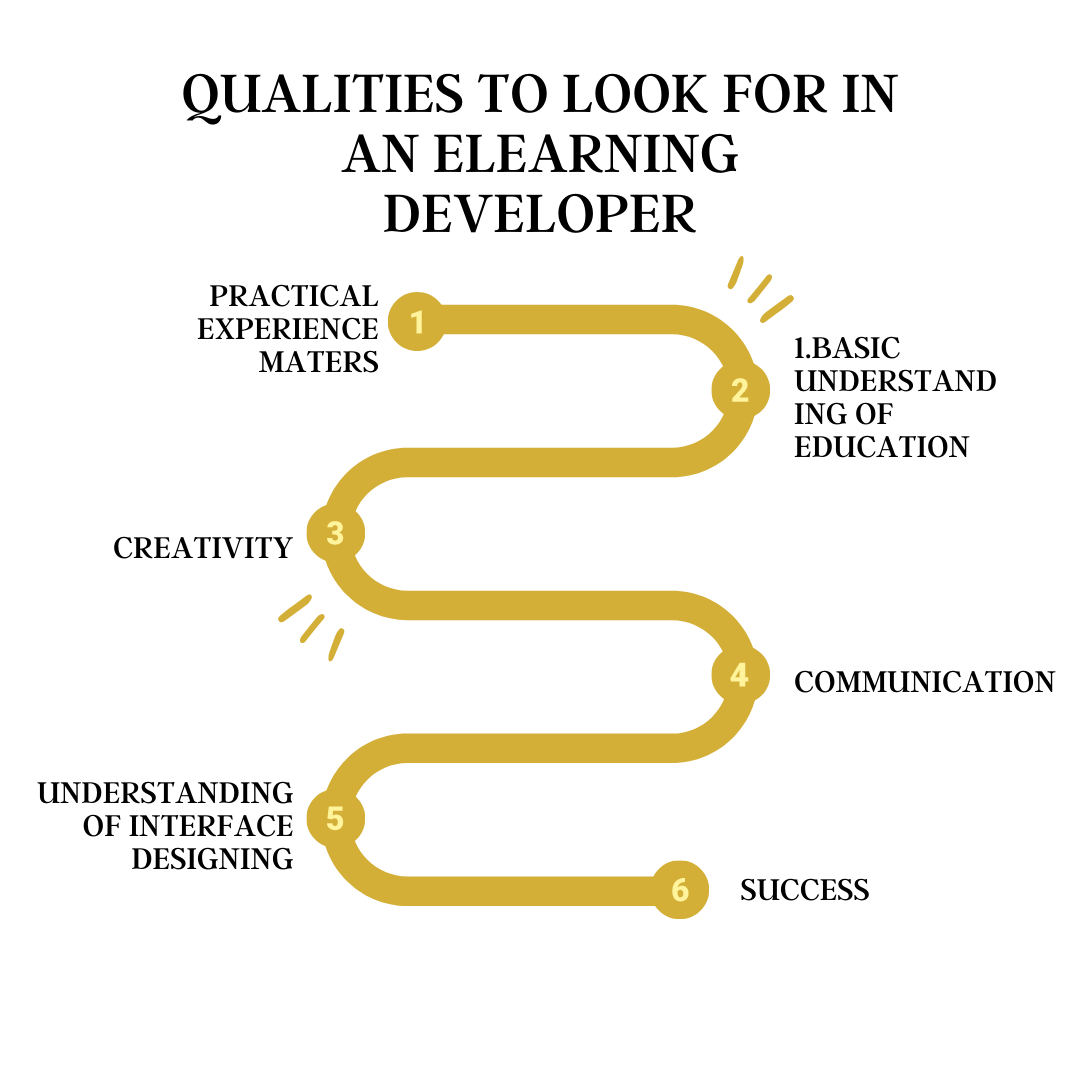 Practical experience maters
There are so many people who would perform so well in interviews but would lack real time experience to complete the job you propose effectively. It is important that businesses focus more in hiring an experienced eLearning developer than people who perform well in interviews. Interviews can be a great place to understand the practical hands-on experience the candidate has in developing eLearning.
Plan your interview wisely and look out for ways to make conversations focusing on their practical experiences. Discussing a previous project and looking through their portfolio can be the best way to hire an eLearning developer than selecting the candidate through interviews.
Basic understanding of education
eLearning developers are people who will develop several Minimum Learning Units (MLU). These MLUs together will form the program that you can deliver to your employees or students based on your needs. Even when these MLUs are carefully designed by Instructional Designers (ID), the eLearning developer must understand the basic process of education to deliver the expected outcomes. If your project involves adult learners, then it is important that the eLearning developer understands adult learning concepts and can translate the storyboard into effective learning modules.
Creativity
IDs can effectively create numerous innovative ways to deliver the learning experience to learners. However, the eLearning developer is the one who develops the experience that the ID envisions. To be able to deliver a seamless learning experience, it is critical that the eLearning developer you hire is creative and has the ability to deliver what the ID creates.
Communication
Communication is a factor that goes unsaid in any role. While hiring an eLearning developer it is critical that you evaluate their communication skills. Communication is an important part of this role because developing eLearning components means communicating effectively with learners and fulfilling their learning needs. To enable seamless delivery of courses, it is critical that the eLearning developer has great communication skills.
Understanding of interface designing
While hiring an eLearning developer, it is a wise decision to seek their inputs on interfaces and evaluate them. As eLearning developers, they will be developing the actual learning components with which the learner will interact and engage. These components play a critical role in the overall experience that the end user has. So, it is critical that the design is created to meet the needs of the learner. Finding out if the candidate has good experience and understanding of user interface is extremely important for this role.
eLearning developer is an emerging position that many businesses are filling up swiftly. Understanding the exact roles and responsibilities of this new position is essential to find the right candidate and help grow your business. While hiring, it is also important that you understand the exact nature of the position and the subject matter in which the candidate will work. Providing these additional insights and posing questions on the subject matter can help identify the right candidate for the position quickly.
If you are business struggling to hire an eLearning developer, you should consider contracting the project to other businesses as well. TheYesfinity is an eLearning specialist with experience in various domains and industries. If you would like to talk to us, book a free consultation call now!