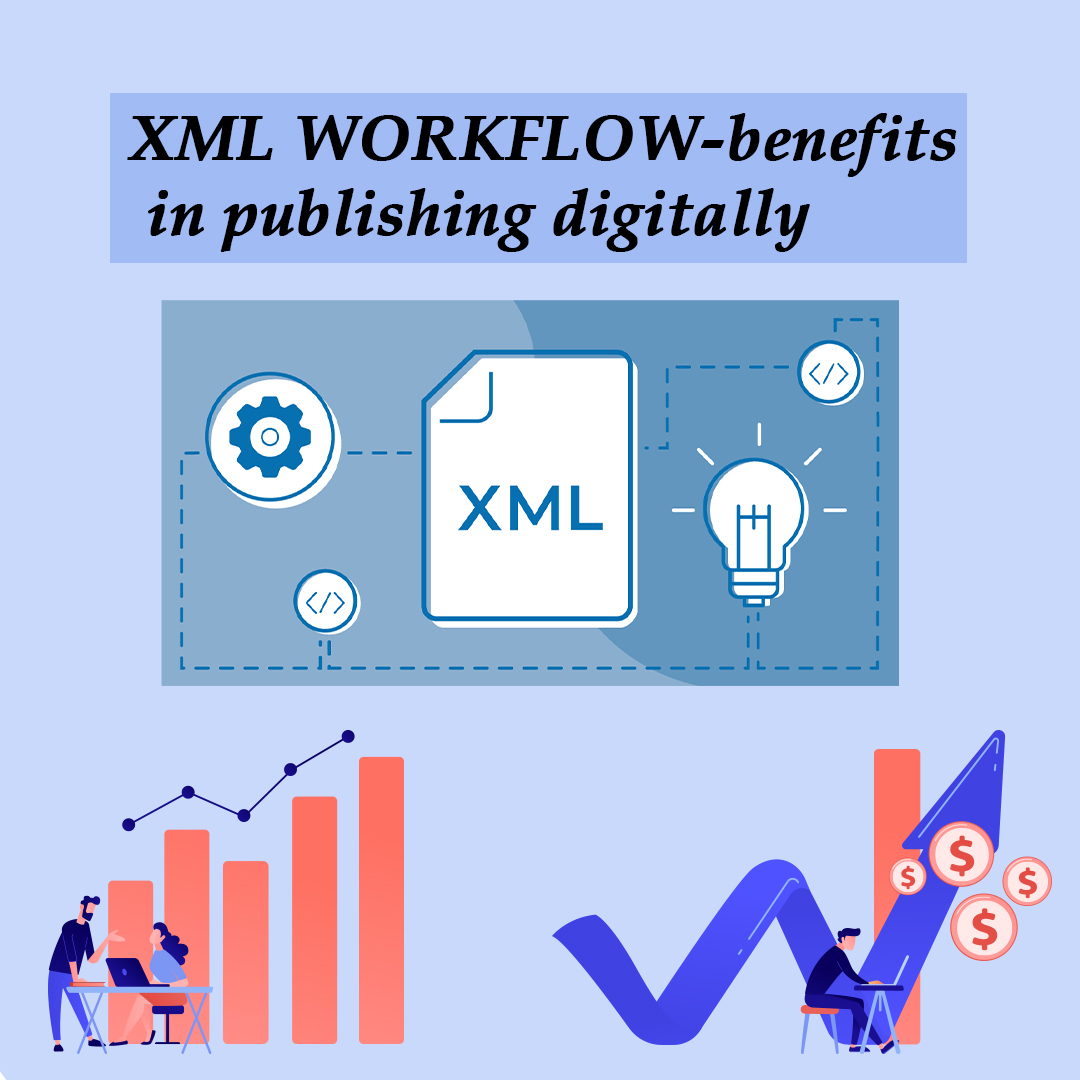 Publishing has always been on the top of the list for many digital producers today. Publishing digital content is a long process and requires you to create several formats of documents and maintain them. Furthermore, editing these formats at a later date means you are looking at redundancy. How would you feel if we tell you that you can do it all by simply using XML workflows?
With digital technology pacing forward at an incredible speed, you as a publisher must keep up with the technological advances invented every day. In this context, XML workflows are the leading digital publishing format used in current digital technology to display and store digital content.
In the digital publishing world, the need to encode documents to protect them and produce them in different formats has increased tremendously in the past decade. XML workflows enable publishers to quickly create documents in any required format such as EPUB, HTML, PDF as needed. The additional perk we get when using XML workflows is we can easily repurpose it into other channels such as catalogues, websites, printers, and databases. In other words, using XML workflows makes digital publishing semi-automated and saves a lot of human effort.
Before you begin publishing any document, you must understand the purpose that your document will serve. Asking some simple questions will help you make the right decision about digital publishing.
Some questions you must ask yourself are:
Should the content published digitally be searchable?
What formats are you planning to offer the content in?
Do you intend to repurpose the content elsewhere?
What is the lifetime of your content?
Do you intend for your content to be available to readers 20 years from now?
If you answered 'Yes' to most of these questions, you should probably consider XML workflow.
If you answer 'No' to most of these questions, then you should probably refrain from using XML workflows for now. Since the cost associated with setting up XML workflow should be considered an essential factor in making this decision, not every digital publisher must use XML workflow unless you have the purpose of your content established.
So, what is this XML workflow all about? Let's find out!
If you are wondering if the XML technology is something new, then no, it's not. XML is a technology that has been in use since 1998. It was initially developed for internet usability. However, just like any other technology we see, XML's purpose and usage evolved too.
XML stands for Extensive Markup Language. Simply put, XML is a set of encoding rules for a document. It is a great way to tag and structure the digital content produced to make it more portable and secure. Using the structure established with XML, the content can be readily displayed and repurposed.
An XML workflow is extensible as it allows you to define your tags and structure in the order you would like to display or process the content. It practically removes all limitations of size and layout and allows all types of documents to be repurposed as information-ready files and used across any digital device.
Now that we understand XML workflows, the next critical question is which XML can you use?
Check out our guide on E-Learning workflow setup guide
XML-first is one of the most used approaches in the digital publishing world today. This XML is based on size and layout agnostic principles. In a traditional publishing setup, content creating and editing takes precedence. However, in XML workflows, the XML tags are inserted at the start of the process. XML servers work the ties between content and layout. This simply means the traditional publishing process is reversed when using XML workflows.
Benefits of using XML Workflows for digital publishing
Easy collaboration
Using XML workflows means you would be beginning your content development only after inserting XML tags. Inserting XML tags is the first step you take. Any number of teammates, editors, advisors, subject matter experts would be able to work on your document without changing the format. Using XML workflows simply makes collaboration with your team quick and easy.
Single file format
When you choose XML workflows, you create a single file format that can be sent across through the internet without converting it into any other arrangements for editing or proofreading. Another fantastic benefit is that the documents can be read by both humans and search engines, thereby increasing the visibility of your content exponentially.
Cross-device and cross-browser accessibility
When using XML workflows, the documents are readable on all browsers and devices, enhancing audience reach. Being accessible across all devices and browsers is one of the most critical requirements for digital content these days, and XML workflows serve the purpose just right.
Enhanced productivity
Who wouldn't like to be more productive and efficient? If you want to be highly effective and efficient with your content, XML workflows are for you. Using XML workflows, you can convert all documents into a standard format that is accessible to everyone. This way, you wouldn't have to spend time converting and formatting your document every time you need to switch formats.
Better SEO
SEO stands for Search Engine Optimization. If you want your content to have a better ranking and visibility on search engines, then XML workflows are your go-to solution. Since the search engine can easily read XML workflows, the visibility of your content improves drastically when you create content with XML workflows.
Scalability
When documents are created with XML workflows, repurposing, scaling, enhancing the content on it becomes quick and easy. You can repurpose the XML workflows as many times as you like, in any format you choose, and still customize the document to meet your specific requirements.
XML workflows are a great way to break the ties between the content and the format leaving room for digital content creators to tap into their creativity without worrying about the structure. With the ability to repurpose into any format, your digital content can also reach a potentially larger audience and enhance your visibility. After all, good content deserves to be read by everyone in the format they feel comfortable in.